DUE TO UNFORSEEN CIRCUMSTANCES, THE WALK IN CLINIC WILL BE CLOSED JUNE 1, 2, 3 AND RETURN TO NORMAL HOURS JUNE 5. WE THANK YOU FOR YOUR UNDERSTANDING AND PATIENCE AND APPLOGIZE FOR THE INCONVENIENCE.
HOURS OF OPERATION:
OPEN: 8:30 am – 6:30 pm Monday  through Friday
Saturday availability varies — please call for details.
Serving all patients including out-of-province & patients with no family doctor.
*Please note, the Community Care Clinic does not roster family medicine patients but will provide most family medicine services as necessary.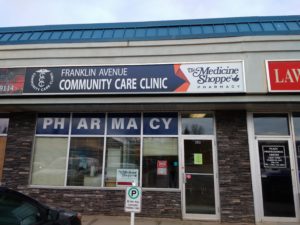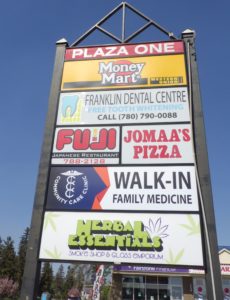 About
Community Care Clinic is an independent walk-in located downtown Fort McMurray. We provide a dedicated walk-in services in addition to same-day booked family medicine visits. The dedicated walk-in is open from 8:30 am to 6:30 pm daily, Monday through Friday. Please note, once our capacity is reached, registration stops.
The walk-in clinic is meant for shorter 10-15 minute appointments. The same-day booked appointments are meant to be longer and are scheduled for 15-20 min.
The Community Care Clinic has been designed to provide maximum accessibility. Both the walk in clinic as well as the family medicine clinic is run by a rotating roster of physicians who fly in from other Canadian cities to provide services. The Community Care Clinic does not roster patients nor does it turn anyone away. Please be aware that accessing family medicine services does not imply that you have been rostered.
Services
Same Day Walk-in
General Pediatrics
Referrals
Routine Screening & Blood Work
Back-to-Work & Sick Notes
Insurance Medicals
Pre-Surgical Assessments
Counselling
Forms


Enjoy the convenience of an independently owned and operated Medicine Shoppe located inside. Please note, patient information is not shared between the clinic and pharmacy.
The intent of the Community Care Clinic is to eventually host a rotating roster of physicians from across Canada.
DR. RAVI
Dr. Ravi Seyed-Mahmoud was born and raised in Lethbridge, Alberta where he completed undergraduate degrees in Psychology and General Management before studying medicine at the University of Alberta. He completed his family medicine residency in Fort McMurray, Alberta.
DR. CRISP
Dr. Crisp completed medical school in her native Venzuela where she worked rural and completed two years of General Surgery training. After moving to Canada, she accepted a Family Medicine residency in Fort McMurray through the University of Alberta. Before joining the Community Care Clinic as a part time physician, she practiced full scope family medicine in Calgary. She has special interest in Women's Health as well as Preventive Medicine & Office Procedures.

VISITING PHYSICIANS
Interested in locuming? Join the team! The Community Care Clinic encourages short term (1-2 week) locums to interested physicians with valid Alberta CPSA licenses and CMPA coverage. For details, please call 780-715-1314.